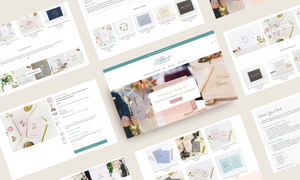 Starboard Press
Having established a thriving business on Etsy, Julia and Chris needed to create a fantastic experience for customers arriving on their own site. 
With almost 300 items in their shop, each with a variety of customizable options, we had to carefully plan how best to present these choices to visitors - without it feeling overwhelming. On the backend it was important that as much information was gathered at the time of checkout to increase efficiency.
After a lot of planning and strategy, we were able to develop a variety of site features that relied on conditional logic (my fav!) to make it all sing in harmony. Now visitors can easily browse and customize any of Starboard Press's gorgeous items!
Strategy
Copywriting
Product Personalization
Shopify Ecommerce
The Idea Lounge is one in a million. If you're looking for results, reliability, and professionalism, look no further! Stacelynn has taken our project above and beyond our expectations. Her work is solutions-driven, which was so appreciated. Our project stayed on time, communication was excellent, and our end result is a perfect solution for us at this time. We couldn't be more pleased with her service!



– Julia R, Starboard Press